Rural planning conference Summary
Abstract:
Rural lifestyles have invented unique public places. We have less considered them in our modern lifestyle and behavior. Similarly, chautara is a popular place that carries religious and social values. It is a place for people to gather and spend time outdoor. This study defines cultural values, planning perspectives and functional significance of chautara. It was found that the uses of chautara have not decreased since then. However, it is less worshiped and preserved as a religious entity. In addition, it also lacks regular maintenance. Nevertheless, it is a potential public place for rural and urban society.
---
1. Introduction
Urbanization and modern lifestyle have endangered some of the important traditional places. Therefore, revitalizing social place like "Chautara" has become essential. Chautara is a traditional public place of Nepal. It is an outdoor space under trees of Ficus species: either F. religiosa (Nepali: Pipal), or F. benghalensis (Bar), or F. benjamina (Swami) or combined 1). In Japanese; イチジ ク属、菩提樹やガジュマル、ベンジャミン等. These trees are surrounded by a stone masonry wall (nowadays, cement plastered) to build two-stepped platform. This combination provided a very dynamic public place in the community. Therefore, it became regular place for people to gather, gossip, play, rest as well as organize events occasionally (fig1). Chautaras constructed along the trail of hills were used by commuters to take a short break, rest and eat.
In this study, Baglung, a town located 272 km away from capital city, Kathmandu was selected. We found 17 chautara within the area of 1.051 sq. km (fig. 2). They were analyzed based on their significance, spatial characteristics, use and preservation status.
2. Significance by religious belief, usage and location
Chautara are important due to religious values among Hindus and Buddhists. Among the three trees of chautara, two of them, Pipal and Bar are male and female. The planter marries two trees to each other and constructs chautara. People believe in the existence of god on the base of the tree and the platform. So, they offer flowers, red and yellow color powders (Nepali; Tika) and sweet. The use of chautara was also a part of rural lifestyle. People rest, relax and gossip in this place. Villagers looking after sheep used to take a nap while they graze. They played musical instrument such as sarangi and flute as people were always gathering of their leisure time. They used for playing cards, chess, and Bagh-chal 2) (a game native to Nepal). It became a place to gather different people at different time interval. Therefore, location was an important factor determining the feasibility of the place. Since, chautara appeared before motor roads, it was found at the nodes of two communities, intersection of roads, along walking trails, open areas, and schools.
3. Spatial Characteristics of chautara:
Based on the traces of chautara, most of them were found on the periphery of the town (fig.2). Among them, five chautaras (2, 6 10,11,12) were located at the entry point to the city led by the walking trails. Similarly, 10 had two-stepped platform. A total of 12 chautaras had only one tree and none of them had 3 trees. Stone masonry platform was found in 11 chautara while, 6 were renovated using concrete, cement plaster and paints. A total of 13 were found along motor roads and 4 along the walking trails (fig 3).
4. Discussion and Conclusion:
Most of the chautaras were in residential area. However, public services and businesses located near them enhanced the use and gathered more people. Out of 17, 12 were located next to bus stop, driving learning centre, restaurants, school, ward office, bus park, temple and shops. They were used often in the morning, evening and during holidays. People meet people at chautara 4,5 while taking a short stop after visiting temple every morning. Some of them have become landmarks. Chautara located next to school provided space for children to play, rest and chat during breaks. In the residential area, it was a place for people to gather and meet their neighbors while children gathered frequently to play. On the contrary, none of the chautara were worshiped. In 3 cases, it was not in use due to the lack of maintenance. Construction material were trashed in chautara 11, while the 16 and 17 were in private property.
In conclusion, the chautara became a dynamic space that connected the rural lifestyle in the urbanizing town. The space although less often maintained, the potential of its use did not decrease. Nevertheless, it is a good example of public space for both rural and urban society.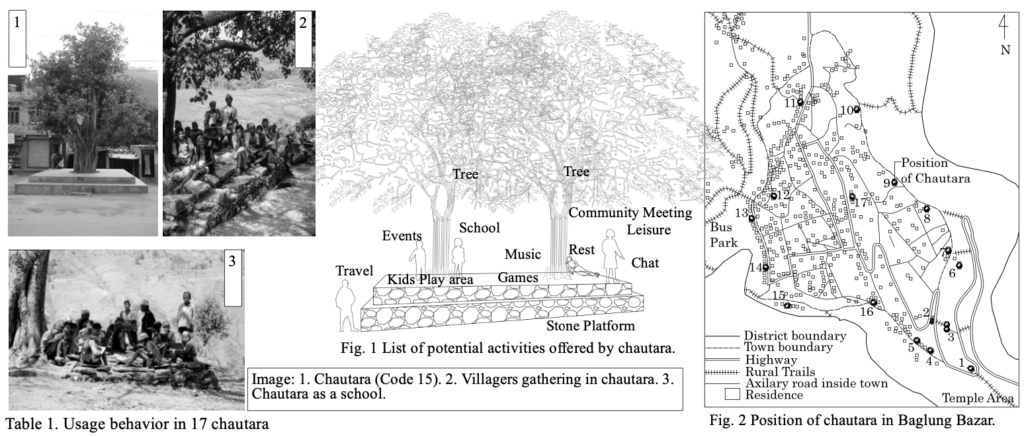 Reference:
1. Kunwar R. M. and Bussmann R. W.: Ficus (Fig) species in Nepal: a review of diversity and indigenous uses, Lyonia, Vol. 11, No. 1, pp. 85-97, June 2006. 2. Lim Y. J. and Nievergelt J.: Computing tigers and goats, ICGA Journal, 27, pp. 131-141, September 2004.